Well done to Aaron, Freya and Isabelle for receiving a certificate this week in Celebration Assembly
Julia Donaldson - Y1 & Y2
Welcome to Julia Donaldson Class...
We are an enthusiastic and friendly class of 30 pupils; 10 Year 1 pupils and 20 Year 2 pupils. In our class Mrs Hayes, Mrs Fleming and Miss Jones help us everyday to learn new, fun and exciting things. We aim to maintain a happy learning environment, in which everybody's opinions and ideas are valued. We often work with our learning partners and support each other in our learning. We are always up for a challenge and encourage each other to ask questions to help deepen our understanding and further develop our learning.
Please keep coming back to our page as we would love to share our new learning with you!
Reminders
Reading Books - School reading books are changed in school every Friday. Please can you make sure you are reading daily with your child and that their book is brought back each Friday to be changed.
PE - Our PE day is on Wednesday with Mr Stratford. Please can you make sure your child has a suitable PE kit to use - both indoor and outdoor kit is recommended at this time of year. Please can you make sure all PE kit is clearly labelled with your child's name.
Decorated Easter Egg Competition - Children should bring their entries to school on Monday 19th March. We look forward to seeing everyone's creative ideas!
Parents' Evening - Tuesday 20th March and Thursday 22nd March. Please book appointments through the online link under the parents tab.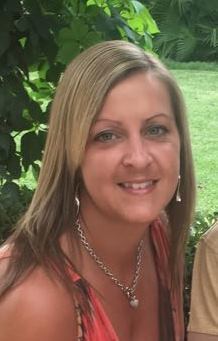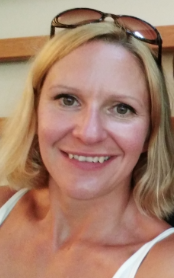 Class Teacher Class Teacher
Mrs Hayes Mrs Fleming

Classroom Support
Miss Jones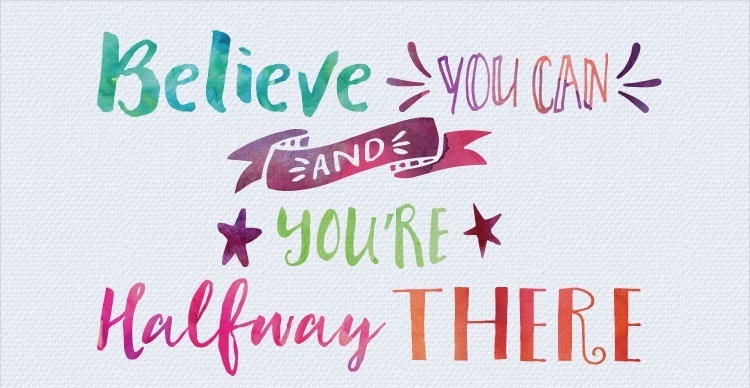 Year 1 Literacy
This week the Year 1 pupils had been doing Literacy lessons instead of Read Write Inc. due to the bike ability course running. We have been introduced to traditional fairytales and their features. We have read the Elves and the Shoemaker story together as a class and have sequenced it using role play. We have worked in small groups developing our acting skills and have performed our group performances to the rest of the class. We have then watched a short animated version of the story and explored adjectives to describe one of the main characters Mr Bottle the shoemaker and wrote our own character description.
We have enjoyed planning our performances so much that we have finished off the week with Jack and the Beanstalk and shouting "Fee Fi Fo Fum!" There have been some very impressive performances which has led to some wonderful written character descriptions.
British Science Week
We have had lots of fun this week investigating different aspects of Science. As part of our 'I'm Alive' topic, we have planted bean seeds so that we can observe the changes as they grow. We made the decision to complete the diary every three days so that we can record the growth of the seed.
We know that seeds need water, light, air and time to grow. We used our knowledge as the basis for our experiment. We wanted to find out if a seed needs soil to grow so we decided to place our bean seeds on a wet paper towel and observe the results. We have created bean diaries to observe the changes that happen to the bean seeds over time.
We also explored floating and sinking. Do you know what kind of materials and float? We gathered a range of materials from around the classroom including; felt, paper, wood, plastic and metal. We predicted whether the materials would float or sink and then we tested our predictions by placing the items into the water one at a time. We found that the plastic Numicon shape, the felt and the metal sank but the piece of paper and the wooden pencil and construction block floated. We expected the large items to sink but that didn't always happen.
We also investigated which materials a toy car would travel most quickly on. Everyone in our class really enjoyed this experiment. We tested the cars on carpet, lino and wood. Which material do you think was fastest? Some of us predicted that the car would travel most quickly on carpet because it is soft while other people thought it would be quicker on wood because it is smooth. We considered the properties of each material when we made our predictions. We found that the car travelled most quickly on the wood because it has a smoother surface. We then repeated our experiment with a different car to see if we would get the same results and we did. Some of us even made our own cars to test out our construction equipment.
We also wanted to find out if bubbles are always round. We explored what would happen to the bubbles if we used different shaped bubble wands. To begin with we made our own bubble wands and then we made predictions about what shape we thought the bubbles would be. Then we got test out our ideas in the playground by using our bubble wands to create bubbles. We even made our own bubble solution!
To our amazement we found out that all the bubbles were round even if we used a star or a heart shaped bubble wand! We talked about the air we blow into the bubbles pushing outwards and creating the circular shape of the bubbles.
World Book Day
On Monday 5th March we celebrated World Book Day in School. Our theme this year was 'Bedtime Stories' so we all brought our pyjamas along with one of our favourite books. Throughout the day we did lots of different activities linked to World Book Day. One of our tasks was to decorate a potato to create our favourite book character. See what you think to some of the examples in the photos below! Everyone really enjoyed the day and we loved sharing different stories with our friends and teachers.
English
Spring Term 2 - In week 2 we have been using The Little Shoemaker animation as a stimulus for our writing. We have started off by watching the animation and describing the characters, setting and events. Next week we are going to be writing detailed descriptions of the Shoemaker, Mr Botte, and his workshop. We will be using different adjectives, adverbs and noun phrases to make our writing more interesting and exciting for the reader. Take a look at the animation below and describe the Shoemaker and his workshop with the help of your adults at home. Make sure you come back next week to see our fantastic descriptions!
During the first week back after half term we have been busy reading lots of different Fairytale Stories and Traditional Tales. We have all really enjoyed the stories we have been reading so far this week; Jack and the Beanstalk, Puss in Boots, Pinocchio and The Gingerbread Man.
We used our drama skills to act out parts of the story Jack and the Beanstalk. We thought carefully about using the features of traditional tales in our performances like 'Once upon a time..' to start the story and '...they lived happily every after.' at the end of out story. We also tried to use dramatic voices to make our performances more interesting for our audience.
We have also been using what the characters say to help us to understand speech in a story. We have been identifying speech as well as using the correct punctuation to write our own speech for different characters. After we read Pinocchio we thought carefully about different words and phrases that we could use to describe Pinocchio himself. We also created Wanted poster for the Gingerbread Man as he had managed to escape from The Little Old Man and The Little Old Woman's house!
Next week we will be continuing to read different stories with a focus on The Little Shoemaker. Check back next week to see what we have been doing!
Spring Term 1 - In English we have been learning about play-scripts. We read a play-script called 'Oh, Gnome!' which we all really enjoyed. It contained the themes of honesty, friendship and persuasion which we discussed as a class. Using drama techniques like freeze frames and mimes we explored the characters in the script and looked closely at their thoughts and feelings throughout Oh, Gnome!. We also discussed what the characters' actions showed about them. We then went on to look at the importance of specific characters and moments in the script as well as understanding the impact of sound effects used in play-scripts at different times.
Once we had a good understanding of the characters and the events in the play-script we then went onto writing a new scene for the play. We included the correct features of play-scripts and made sure the dialogue we used was interesting and that it revealed something about the characters' personalities. We tried to include exclamation marks and full stops correctly to show a command as well as using question marks to show a question. We used our up-leveling skills to make our writing even better as we were going along. We ensured we read through our work carefully and used our learning partners to ask for advice and opinions on how we could improve our work.
Some pupils have been working in their Read Write Inc groups learning and consolidating sounds, reading and sharing books and producing some lovely writing.
National Storytelling Week
Each class was challenged by Mrs Dry and Miss Walker to create a video retelling of a story for National Storytelling Week. In Julia Donaldson class we choose to retell one of our favourite stories, 'The Gruffalo'.
Homework
Please click on the documents below to enlarge the homework for Spring Term 2. Remember the projects can be completed and brought into school at any time during this half term.
Well done to all the children that managed to complete their half term holiday project. It was linked to our current topic I'm Alive and you had to design and make a model of a house that would be suitable for an extreme environment; polar region, desert, rain forest, rocky island or grassy plain. Some children also wrote some instructions/explanations of what they did and produced leaflets and fact sheets of the information they found out about the extreme environment that they had chosen. We have displayed the models in our classroom and in Key Stage 1 corridor. They look fantastic - well done everyone! Take a look at some of the the creations in the photographs below.
World Maths Day
On Wednesday 7th March the whole school enjoyed being involved in world maths day. We started the day with a whole school assembly. What a surprise we all had when we walked into the hall...it was like walking in a Rock Festival! We decided to use the world maths day to relaunch TTRockStars across the whole school and what a success it has been so far! Children in Donaldson class loved creating their Avatar on the TTRockStars App and having a go in the Garage and the Arena. Remember you can access this at home too to practise your times tables and become a Rock God! (There is a link and information about this further down the page).
During the day we also took part in a number of maths investigations and problems, take a look at the photos below. Everyone on Donaldson class really enjoyed the day and we are looking forward to using TTRockStars in the classroom.
Mathematics
Spring Term 2 - In week 2 we continued our learning on turns and did lots of different activities in class to help develop our understanding. Next week we will be learning about statistics.
During the first week back we have been learning about Position and Direction. We have been learning about different turns; quarter turn, half turn, three quarter turn and full turn. We have also looked at turning in a clockwise and anti-clockwise direction. To practise some of the skills and language we have been learning and developing we completed lots of different activities. Some of us worked as a group and used our skills to control Bee-Bots around a simple maze that we had made. Some of us used a Bee-Bot App on the ipads and an interactive Bee-Bot program on the whiteboard. We all gave each other directions on the playground using directional language and we also completed some tasks in our books to show our understanding of turns too! We all really enjoyed doing these activities and learned a lot of skills.
We have also been learning about patterns and sequences this week. We used multi-link cubes to help us to solve some problems linked to our learning.
Spring Term 1 - In maths we have been learning about multiplication and division. We have been recalling our 2, 5, and 10 times tables and using these known facts to help us solve problems. To help us solve these problems we have also used different equipment, arrays, repeated addition and some mental methods. We have also been learning about fractions. We have recognised, found, named and wrote fractions including one third, one quarter, two quarters and three quarters. We have found fractions of different shapes. We also used the bar model to help us to work out fractions of numbers. We all know that a fraction is a part of a whole and the bar model helped us to see this. Some of us also looked at halving and doubling of numbers to 20. In addition we have been learning the names and properties of 2D and 3D shapes.
Remember you can access My Maths from home to practise and consolidate learning in the classroom. You can also access ttrockstars from home too to practise your times tables. If you cannot remember your log in detail please ask your class teacher.
Please follow the links below to access these websites.
https://www.mymaths.co.uk/
https://ttrockstars.com/login2
I'm Alive
Our current topic is called I'm Alive and is all about different things that are alive, dead or have never lived. This week we have been finding out about living things through science. We have started off by sorting animals into different groups.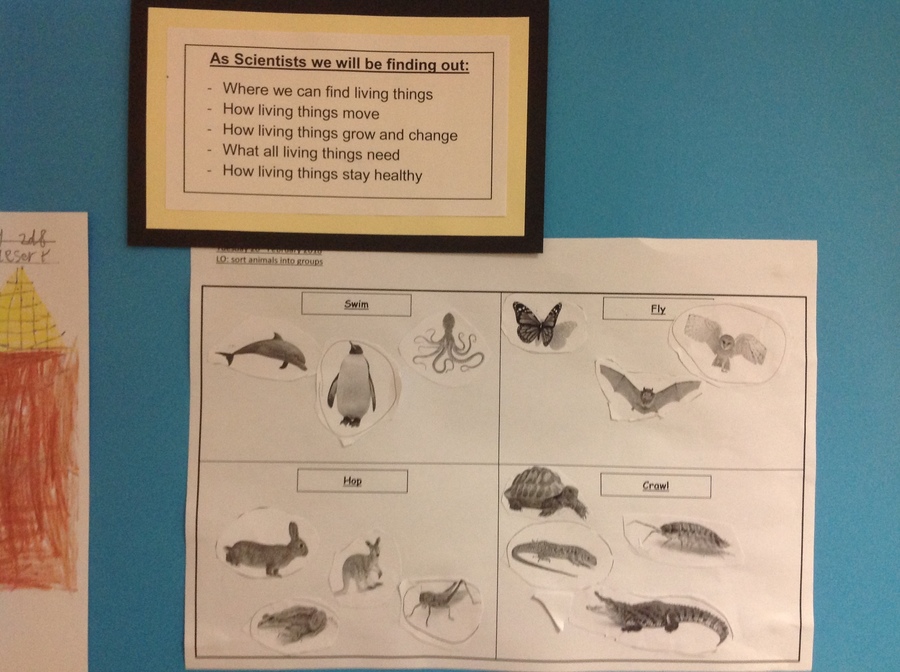 We have used our geography skills to learn about places where plants and animals live, we have also started to learn about different environments where we can live. We really enjoyed learning about endangered animals and we did some lovely writing to show what we had found out. In art we used what we had learnt about different environments to create a colourwash and silhouette picture that represented either a desert, ocean, arctic or a jungle. We have also used our art skills to create still life pictures. We used sketching pencils, crayons and Brushes App to help us create our pieces of artwork.
The Magic Toymaker
Autumn Term 2 - Julia Donaldson really enjoyed our Magic Toymaker topic. We explored that toys come in many shapes and sizes. We learnt that toys are made of different materials but all are designed for us to have fun with, to learn new skills and to exercise our bodies and our imagination. We compared toys in the past to modern day toys and we even designed some future toys! We also learned about toys and games from other countries.
Fun in the Snow!
On Wednesday 28th February some of us enjoyed having fun in the snow with our friends. Visit the 'Gallery' page to see more photos.