Welcome to Terry deary's class page. We hope you enjoy looking at what we are learning about!
Terry Deary - Y3 & Y4
Welcome to Terry Deary class...
Our class consists of 32 pupils; 20 Year Three pupils and 12 Year Four pupils. In our class Miss Clark support us everyday to learn new, fun and exciting things. Mrs Sharpe and Mrs Heckler also support us in our learning. Sometimes other adults pop in to help us out and we welcome their support in our learning journey. In Deary Class we support and respect one another and know that we are a team. In class we often work in our learning partners using cooperation and communication to learn with one another. We are always up for a challenge, our class motto is: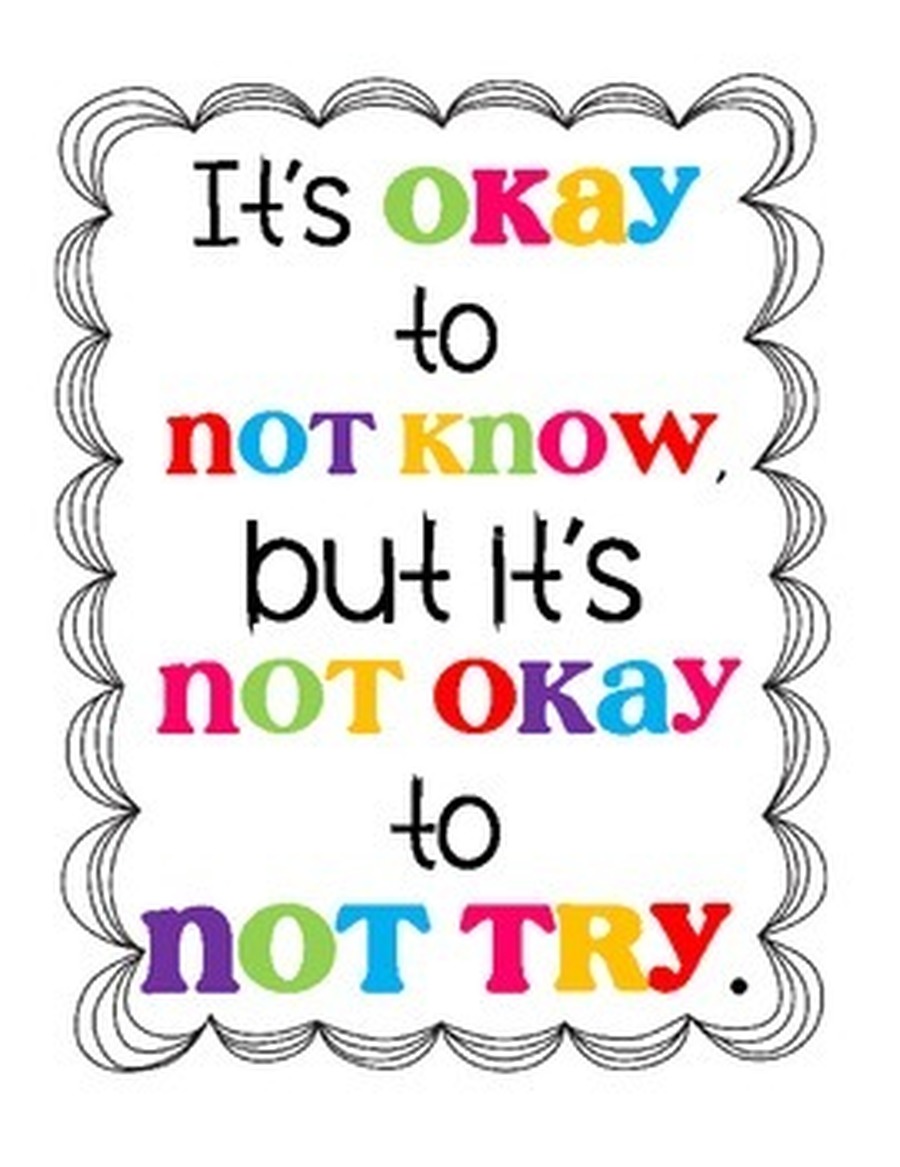 We are a very resilient class and are determined to do our very best!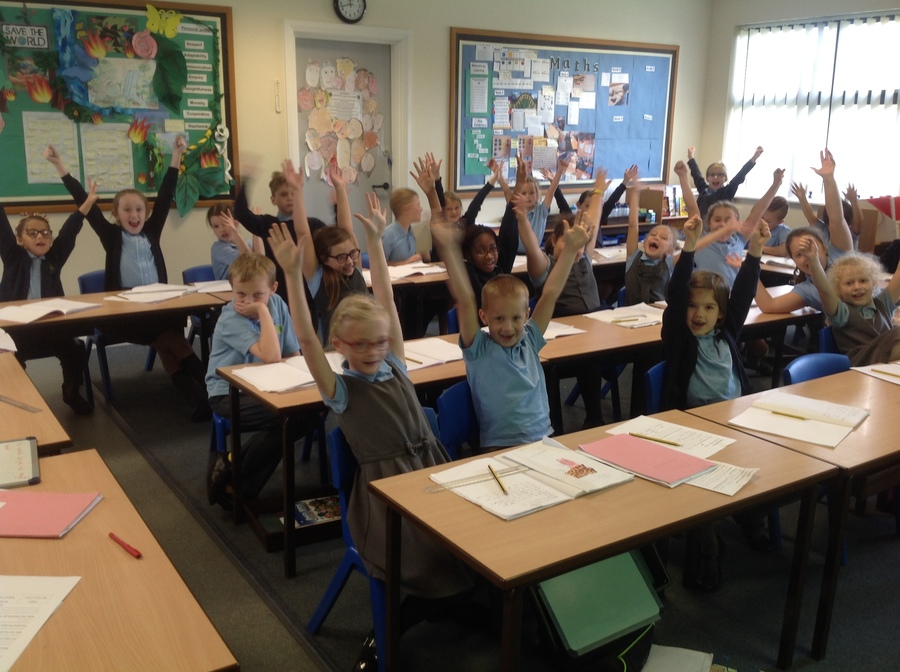 Please keep coming back to our page as we would love to share our new learning with you!

Easter Production Costumes
Please could children wear the following for the Easter production.
All children: Black or grey school trousers.
Narrators: Any coloured plain top.
Disciples: Dark green or dark brown t-shirt.
Judas: Black t-shirt.
Soldiers and Centurion: Red t-shirt.
Choir: White PE t-shirt.
Temple Sellers and Money Changers: Bright, single-coloured top.
Crowd: Grey or brown t-shirt.
Caiaphas and priests: Bright, single-coloured top.
Pontius Pilot: Purple top.
Girl, woman, man in courtyard: Light-coloured top.
Mary Magdalene: Light-coloured dress.
Reminders
PE- Our PE is on Monday and Tuesday. Please can you make sure that your child has a suitable PE kit to use. Both an indoor and outdoor PE kit is recommended at this time of year.
Class Assembly- Deary class assembly will be taking place on Thursday the 28th June. Deary Class cannot wait to show you what we have been learning!
Swimming lessons- Swimming starts on the w/b 26th February for Year 3.
Brass- Year 4 have brass lessons on Wednesdays.
Maths Lessons- Maths lessons will return to home class teaching after February half term
Easter Production- The Year 3, 4 and 5 Easter Production will take place on the 21st of March. We look forward to seeing you there! Tickets can be purchased from Reception.
Easter Production
This half term we have been practising our Easter production, we can't wait to show you!
In English we have been using the book Varjak Paw by SF Said within our lessons to inspire our writing. We have explored the characters, themes and settings and used this to help us understand how authors create their work, supporting us in our writing. One way we explored the different characters and themes was through different drama techniques.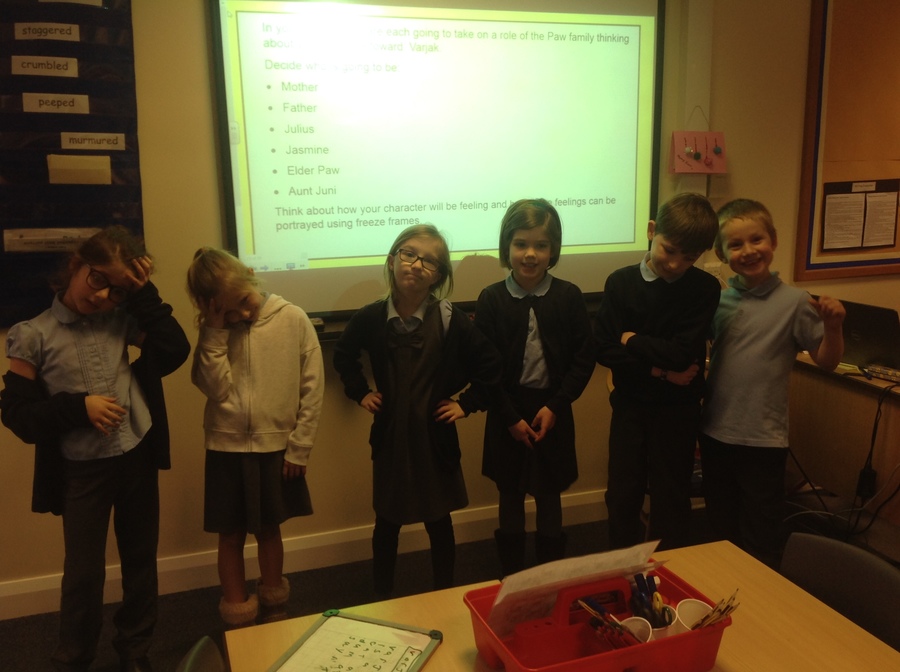 Here we are freeze framing the characters from Varjak Paw. How do you think each character is feeling about Varjak?
From this we created a diary for Varjak Paw and a newspaper article about the 'Vanishings'. We have been using an app called Seesaw to share ideas between our class, Roald Dalh class and Dr Seuss Class. As well as this, we have been very excited to have the opportunity to contact the author S.F. Said on twitter, who was very pleased to hear about how much we are enjoying Varjak Paw.
National Storytelling Week
Each class was challenged by Mrs Dry and Miss Walker to create a video retelling of a story for National Storytelling Week. Terry Deary class we chose to retell one of our favourite stories, 'Varjak Paw'.
Science Week
During Science Week Terry, Deary, Roald Dahl and Dr Seuss class have all been investigation reactions. We have been discovering what happens when you change the amount of bicarbonate powder you put into vinegar. The smell in the classroom wasn't pleasant!
What's On the Menu?
Our topic during Spring term is 'What's On the Menu?' Throughout this topic we have looked at where our food is grown; the impact that importing food has on the planet; why it's important to eat a balanced diet; and where would be an ideal location to open up a restaurant. We are very excited to carry on exploring healthy eating and will soon be writing to Barnsley Council to explain the importance of a healthy diet.
As part of 'What's on the Menu' we looked at why food goes off. As part of our learning we planned an experiment looking at how fast bread would go mouldy.
Footprints from the Past
Terry Deary class really enjoyed this topic learning all about dinosaurs. We found out so much information; not only about dinosaurs, but also about the people who research dinosaurs- palaeontologists. As part of this topic our class created biographies about Mary Anning, one of the most famous female palaeontologists to date.
Saving the World
In this topic we learning about Rainforests. In particular, deforestation and its impact on the world. We really enjoyed learning about the parts of rainforests, the different animals that live there and how different tribes live.
As part of this topic our class, Dr Seuss Class and Roald Dahl went to Doncaster Wildlife Park and attended a talk on animal conservation. It was a brilliant day and we learnt so much. We even decided to write letters asking for more money to be given to the Wildlife Park to help more animals.
Homework
Spring Term
Year 3: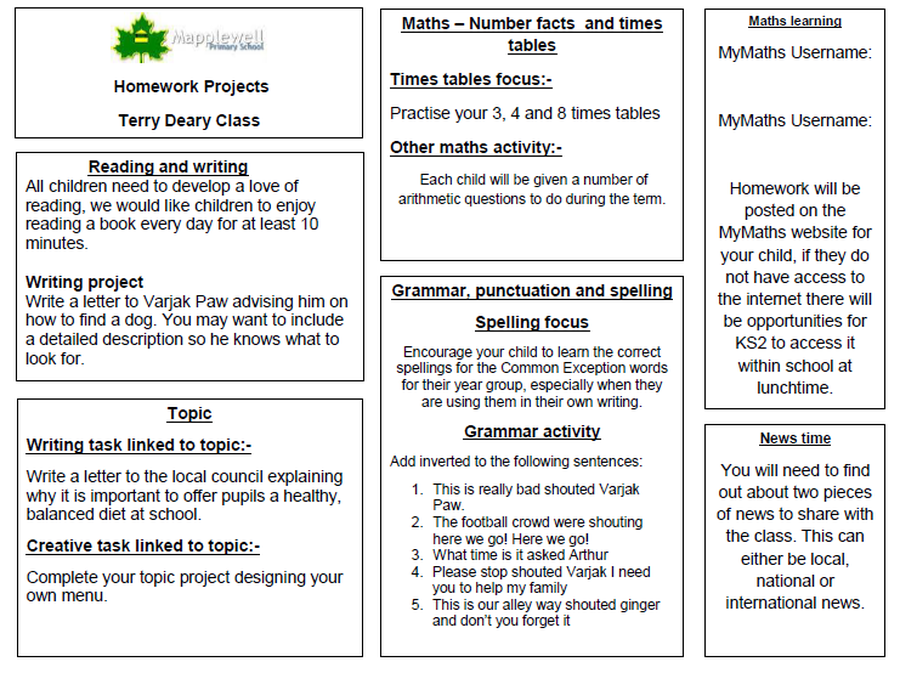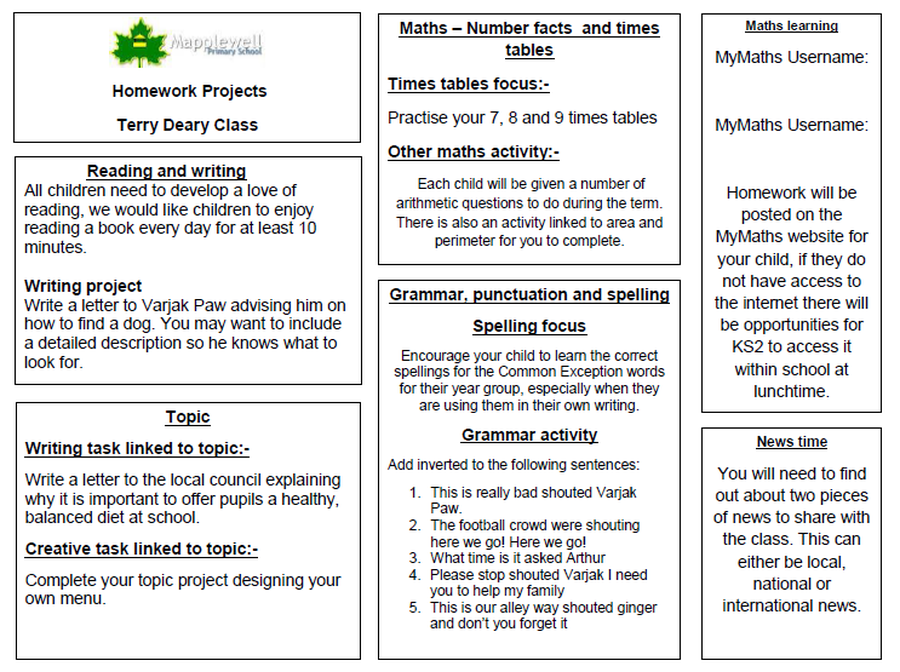 Mathematics
In our maths lessons we believe children learn best through a mix of concrete apparatus, pictorial representations and abstract problems. All topics incorporate each aspect to support our pupils to develop a deeper level of understanding. Whilst the hands on, active discussion and mix of tasks try to develop a love of mathematics within our class.
World Maths Day
On World Maths Day Terry Deary class had lots of fun doing a variety of investigations and rocking out using Times Table Rockstars.
Addition and Subtraction
During the second half of Spring term we have started looking at addition and subtraction. In particular, we have looked at using bar models.
Statistics
During our topic on statistics we have had lots of fun collecting our own data. During our first lesson we tallied how many bean bags we managed to get into hoops. We then turned this into a bar chart.
We have also explored pictographs and line graphs.
Spring Term 1
Over Spring half term we have been exploring Geometry and Measurement. In Geometry we looked at 2D shapes and began comparing and classifying them. We are now whizz's at describing the properties of triangles and quadrilaterals! We also looked at angles and lines of symmetry and really enjoyed completing symmetric figures. In Measurement we covered so many different areas, from reading and converting time, finding area and perimeter of shapes and looking at capacity. We really enjoyed creating our own unique fruit drinks!
My Maths
Remember you can access My Maths from home to practise and consolidate learning in the classroom. If you cannot remember your log in details or do not have a working password please ask your class teacher.
Please follow the links below to access these websites.
Celebration Awards
Every week we celebrate our achievements in school. Below is a gallery of all of our happy pupils with their celebration awards. We have lots to be proud of!
Reward Time
Each class has a reward jar. Throughout each day, pupils can earn rewards (cubes) to add to their class' jar. When the jar is full, we have 20 minutes of class reward time which is decided by the class from a range of choices.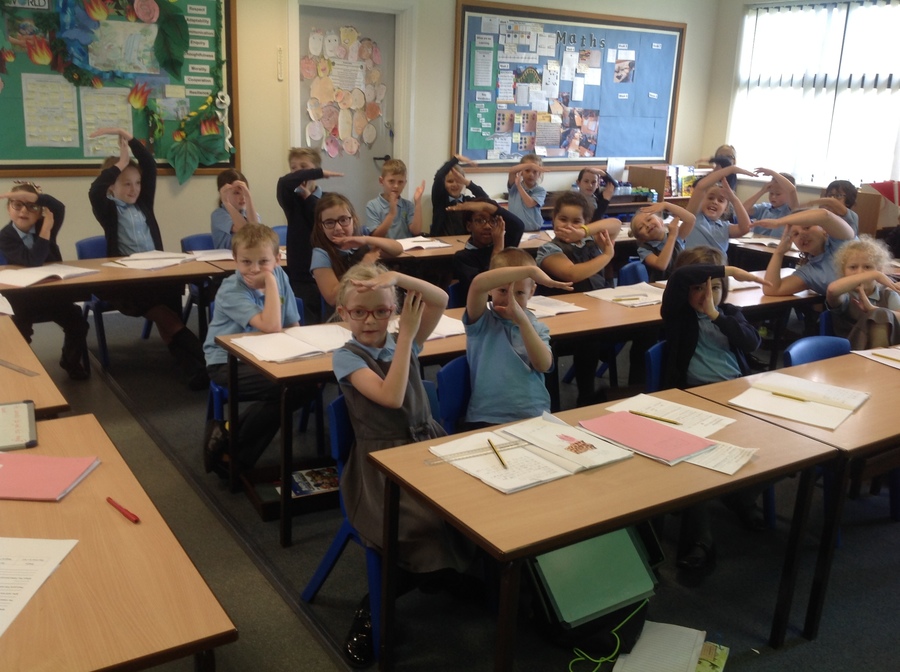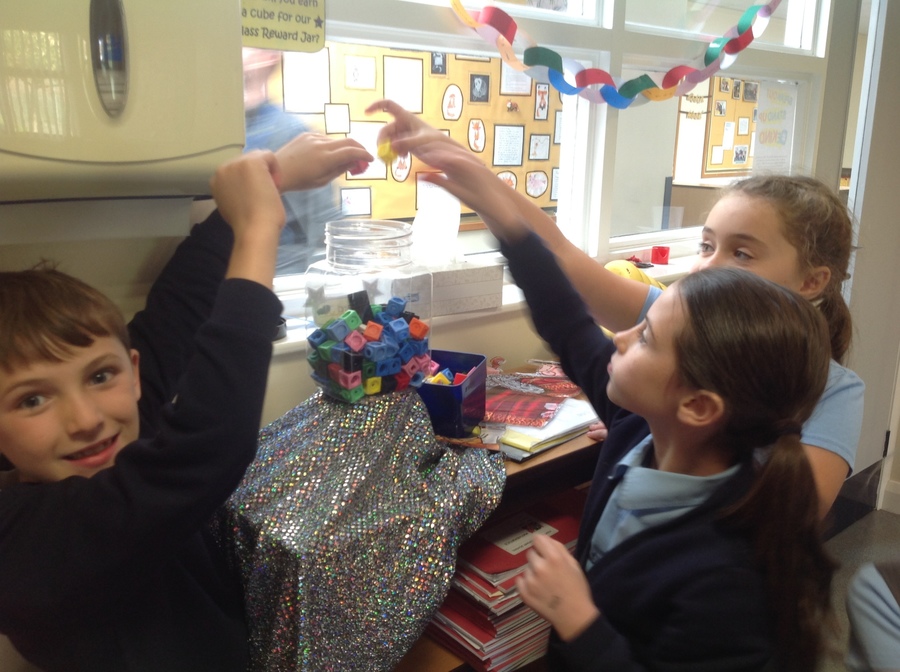 During the second week of Spring Term 2 we had a chilly spell. Terry Deary class made sure that they had lots of fun in the snow before it melted. In class we created acrostic poems about Winter, took part in a snow investigation, coloured Winter scenes and enjoyed a hot chocolate.