Jackalopes Class - Reception
Meet The Team
Mrs Dry, Mrs Flemming, Miss Walker and Mrs Bailey.
This is our Key Story this half term. Lost and Found by Oliver Jeffers. Your homework is to listen to your child retelling the story using Talk 4 Writing actions.
Autumn Term 2
This half term our topic is linked to Festivals and Celebrations. We have started by celebrating Bonfire Night and will also find out about the Hindu festival of Diwali and the Jewish Festival of Hannukah. We will then be find out more about Christmas and the birth of Jesus. alongside this we will be getting ready for winter and exploring the theme of Winter Wonderland and will link to our trip to Barnsley Civic to see Jack Frost.
Week 6
Thank you to all the parents who attended out Nativity at St John's Church. The children were fantastic. Thank you for all your support with costumes and helping your children learn the songs and their lines.
Week 5
This week we have been busy practising for the nativity. We have also been decorating our classroom and getting into the Christmas spirit. We are changing our role play area to a nativity scene and making our own scenery and back drop.
On Friday afternoon the weather was very changeable. It kept raining as well as the sun shining and we spotted a rainbow. We were very excited and we were talking about the colours we could see and how rainbows were made. The rainbow disappeared and then reappeared in a different part of the sky. We then waited for another one and some of decided to sing the rainbow song hoping that it would come back. We knew that we needed rain so some children made up their own rain song too. We were so excited to then see another rainbow and we saw another rainbow very faintly in the back ground. A wonderful double rainbow which we managed to get photos of too.
Week 4
We have had a lovely time this week learning about the festival of Hanukkah. On Monday we were surprised to find a large present waiting for us in the classroom. After reading the story, The Hanukkah Mice, we opened the present to find a wooden dolls house and two mice. Over the next few days, more presents arrived. Each day we opened them excitedly and discovered pieces of furniture for the dolls house. It was just like the story!
We have also continued to learn about Diwali and have used clay to make Diwali lamps. We can't wait to show you our finished lamps at the end of the half term.
It has been such a busy week. We have had lots of fun mark making on large sheets of paper with felt-tip pens and coloured pencils. We have also continued to explore addition by combining different amounts of objects to find the total and have even found time to practice the songs for our Christmas nativity. Our singing is absolutely beautiful.
Week 3
This week we have had lots of fun learning more about addition. We have spent time combining different numbers of objects to find a total. In provision, we have practiced our counting by matching numerals to objects and thinking about how many we have used when we are playing. We were surprised on Monday to find bowls of water and wooden spoons in the water tray. We had lots of fun making gem cakes, fish cakes and different types of soup with our friends. This week we talked more about the seasons and what happens in Autumn. Afterwards, we created some beautiful Autumn pictures and used rich colours to represent the falling leaves. Alexia inspired us to make lollipop stick puppets after she brought one in that she had made at church. We have had lots of fun making and playing with these. In the small world area, we have explored how the different Arctic animals might interact and we have shown our caring sides when we looked after the babies in the home corner.
Week 2
Look at our amazing projects for the Readathon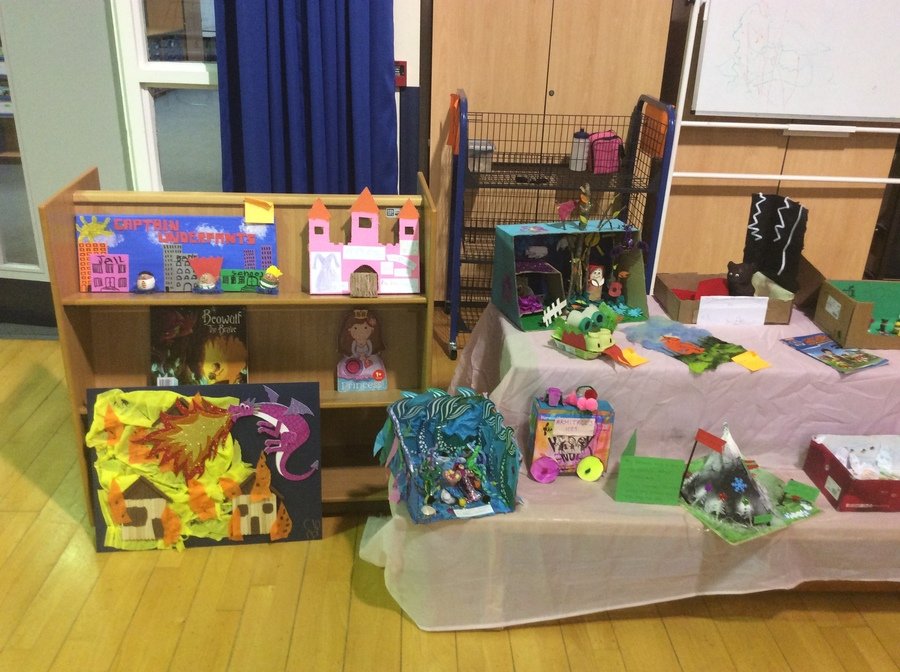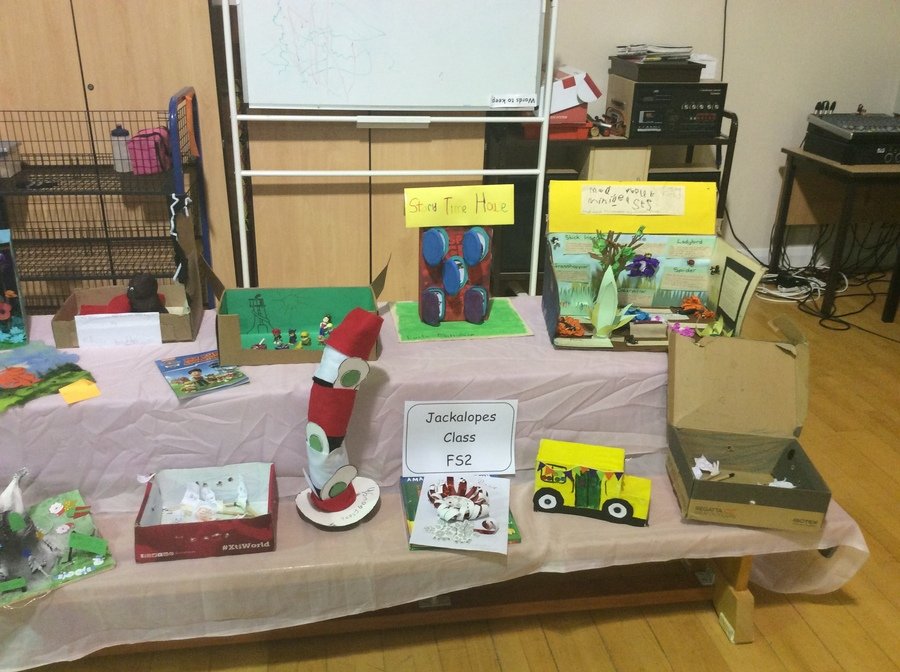 Week 1
This week we have been busy role playing about bonfires outside. We have been dressing up with extra hats and gloves, pretending to toast marshmallows and singing songs around our pretend fire. We have made our own songs up as we have been singing and this is one that we made up ourselves.
We have also been making firework pictures using chalk and describing our pictures and talking about our experiences of bonfire night. We then used paint and variety of different ways to make fire work paintings. We used kitchen rolls that we adapted by snipping one end, both ends of the paintbrush as well as numicon pegs to explore the different effects we could make with the paint. We loved making swirls and mixing some the paints to look like some of the fireworks we have seen. As we painted we made some of the noises that our firework painting could make.
Magical Me Topic
There has been lots of fabulous learning in Jackalopes class over the last two weeks. We have planted daffodil bulbs, examined spiders, ladybirds and worms and enjoyed lots of outdoor maths lessons. We also have some exciting Twitter news. Michael Rosen has retweeted one of our pupils retelling the story 'The Bus is for Us'. It's lovely to know that authors take the time to look at what schools have been learning about.
Our Zoolab Visit
Today we had a visit from Zoolab. We had a wonderful time meeting a range of creatures including a Giant African Land Snail called Barry, a Giant African Millipede called Millie, a Chilean Rose Tarantula called Talulah, a Royal Python called Prince and a rat called Apollo. We learned lots about the different animals. Some of us held them and some of us touched them. We didn't touch Talulah the Tarantula because it would have upset her. Instead we looked closely at her. We learned what sorts of things each animal eats and how they use their senses for protection and to find food. When we got back to the classroom, lots of us chose to make spiders, snakes and rats using creative materials and play doh. We have had a wonderful day.
Autumn 1 - Week 7
We have had so much fun this half term and done lots of learning. We have explored using the baseboards and pegs in maths to make the different Numicon shapes. We have also enjoyed activities where we move in different ways and then get into groups of specific numbers.
In the water area we had lots of fun using spoons and scoops to retrieve the objects hidden below the golden tape.
We welcomed some new additions to our home corner - two babies! We have really enjoyed putting the babies to bed, dressing them and feeding them. The babies have also had lots and lots of cuddles.
We have also worked hard to make sure that we treat each other kindly and use kind hands, feet and words.
Our Maths Learning
This week we have started to do lots of maths learning. We have sung songs and used different apparatus like number lines and the counting stick to count numbers to 10 and sometimes 20. We have also been learning more about the numbers one to five. First, we rolled the dice and used the dots to help us identify the number we had rolled. Next we found the matching number card. After that we counted out objects to represent the numeral. The adults working with us were so proud of how well we did. Our partner work was excellent and we made sure that we helped each other.
Inside the classroom we used the interactive whiteboard to play a game where we counted the spots on a ladybird and chose the correct numeral to show the number of spots. It was lots of fun.
Homework 14/9/18 Read Write Inc. Please ask your child to read the sounds that they know. We will be sending a sheet home for you to practice on Monday.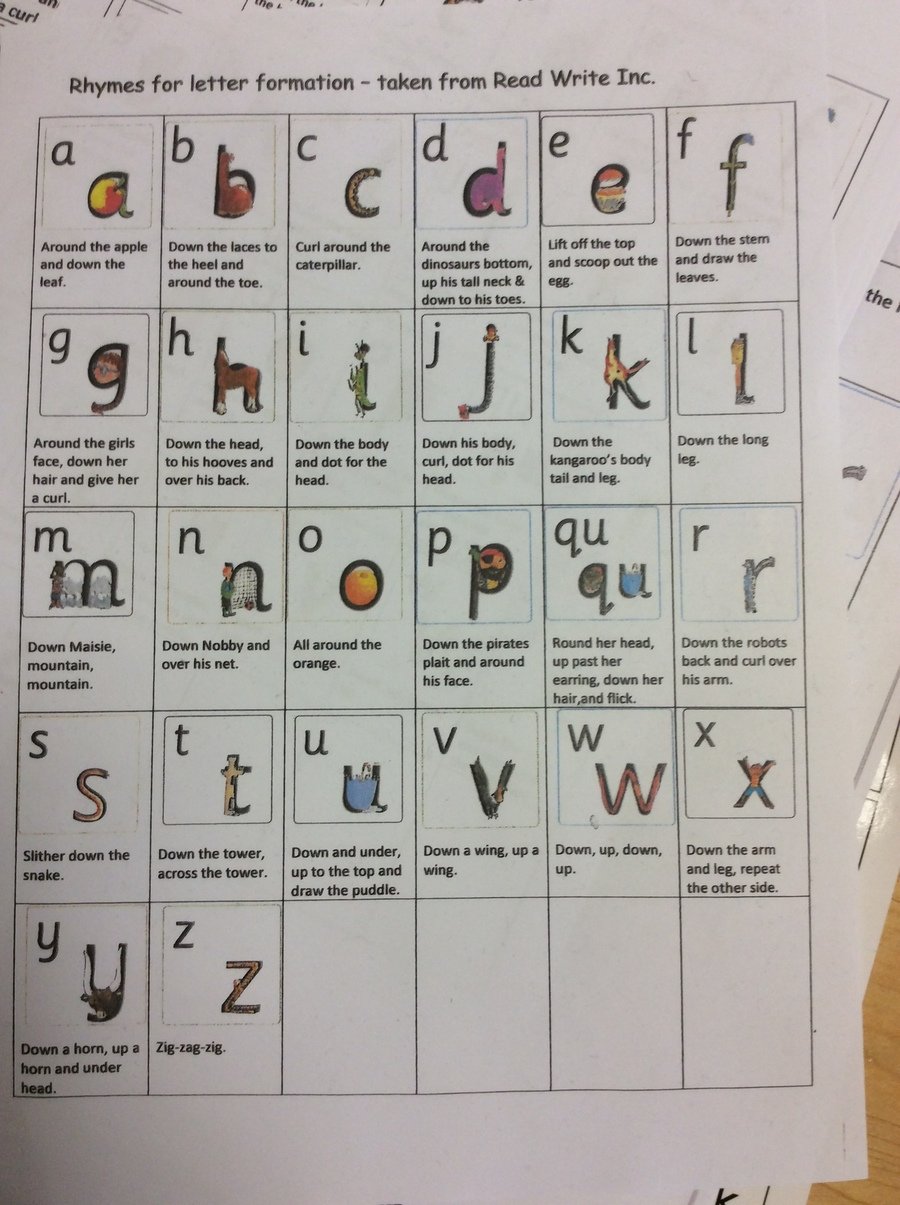 Our Key Story - The bus is for us!
Our First PE Day - Thursday 13th September
Today we have had our first PE lesson. The children practised putting on their PE kit independently and they practised doing this in silence so they could concentrate. The children did really well, some of them managed to fasten and unfasten buttons and put on tricky socks. Please practise these skills at home as this will help your child to become more independent. Some children managed to get ready in less than 10 minutes which is a great achievement for their first time. Once in the hall the children practised their good listening skills and following instructions. We played musical statues including balancing and making shapes with our bodies. Then we played a game with the hoops where the children had to problem solve and organise themselves into pairs. Here is a slideshow of our first PE lesson.
Our Jackalope Day - Tuesday 11th September
Today we have explored what a Jackalope is. The children have used their imaginations to think about what a Jackalope is, what it can do, what it's special powers are and what it likes to eat. They decided that a Jackalope is 'a bit like a bunny but it can fly;' that it 'looks like a reindeer because it has horns next to its ears' and that ' it has magic feet.' Like a rabbit, a Jackalope likes to eat grass but not just any grass, special rainbow-coloured grass! Finally the children thought that the Jackalope's strong legs meant it could jump a long way like a kangaroo.
The children have worked in small groups to begin creating a Jackalope mural. Today we have collaged the Jackalope itself and we hope to complete the other aspects of the picture this week. We have also created a Jackalope song so please listen out for the children singing it.
In the outside area children explored building a Jackalope house. Of course the house can fly and lots of children got involved with its construction. Meanwhile inside, children had lots of fun designing their own Jackalope. They took great care to try to stay inside the lines when colouring and enjoyed telling adults about whether their Jackalope was good or naughty and the reasons why.
Homework Friday 7th September
Please practise retelling the story, 'The Bus is for Us' by Michael Rosen. Click on the images to enlarge the text map.
This week has been all about buses. We have drawn buses, written text maps about buses, made junk model buses and made buses in our outdoor area.
In maths we have been counting to 10.
First Day Back to School
We have all had a wonderful first day at school, settling in very quickly. We have enjoyed exploring the new areas and resources. We have been busy playing and learning independently and with our peers. We have discussed our class rules and expectations. We practised going into the dinner hall for lunch and we went outside into the big playground to have a play before lunch time so that we knew what and where to go later on. It was great fun having the whole big playground to run in without the older children. We managed lunch time in the dinner hall with confidence and independence and we had a circle time after registration to talk about how lunch time went.
We have continued to be interested in bees and we have been looking closely with magnifying glasses at the differences between a bee and wasp which was found on the floor outside. We were also surprised to find a very large spider who had built his web inside one of the large tyres! We read the story "The Bus Is For Us!" We talked about different ways we can travel and we drew pictures of what we could travel on and we used the large construction to make our own buses and go on holidays. We have particularly enjoyed exploring the different maths resources, using them creatively and using more mathematical language.
It has been a lovely day seeing everyone getting to know each other again and saw the start of some new friendships and interests.
Transition Week
During transition week we have been busy getting to know the children they have been learning the story "We're going on a bear hunt". We have also been busy singing and having time with each other making new friendships and for some children getting used to the new adults and classroom areas. We have been into the dinner hall and had our first experiences of eating school lunches. There have been lots of empty plates and happy faces and it has been lovely to get help from the new school lunchtime supervisors as well as some of the older children in school helping us if we are unsure of where to go.
We have had quite a few bees come and visit our lavender plants and some bees have struggled in the heat so we have put a little water out in a milk bottle top to try and help encourage the bees back into the air. We know not to touch or get too close to them so we have been using binoculars and magnifying glasses to look at them from a safer distance.
September Topic : Magical Me
In September our topic is Magical Me. We are looking forward to exploring our own interests and learning all about our bodies and how we are alike and how we are all different and special in our own way. We will talk about our favourite stories and our families and people that we love. During transition week we practised 'We're going on a Bear Hunt story.' If you have this book please read it to your children over the summer and let them retell the story using the pictures from the Text Map below. Have a wonderful summer holiday.