Attendance is of key importance to a child's learning and development and at Mapplewell Primary we strive to improve and maintain high levels of attendance and punctuality. The school will work closely with the Educational Welfare Officer to improve this. With all our efforts and commitments I am confident that we will be able to rapidly improve attendance and punctuality here at Mapplewell and sustain it in the future.
This year we are going on an 'Attendance Journey' and as you will see from the display below each class has its own journey marked out and will travel through different continents collecting landmarks until they eventually get back to Mapplewell. Every week for classes who have 97% or above they will move one step forward. When classes reach landmarks they will be given a copy of that particular landmark which will be put into a passport kept in their classroom. Throughout the year there will be rewards for the highest weekly attendance as well as the number of landmarks they receive. Also children who receive 100% attendance each month will receive a certificate.
The 'Attendance Journey' will also be displayed in the school office reception area so you can follow each class's journey. Attendance information will also be shared on twitter.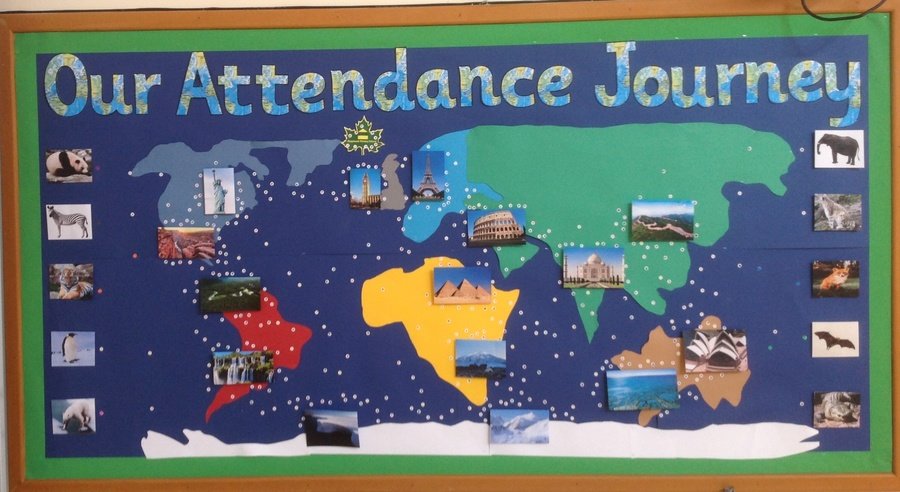 Each week you will be able to check our your class is doing by looking at individual class attendance which is on display in the office reception area. The green squares show that the class has met or exceeded the school's target attendance of 97%. The classes with the red squares have not met the target and need to try harder the following weeks.
Why is Regular School Attendance so Important?
Mapplewell Primary School works closely with children and parents in connection with attendance so that each child can achieve their full potential.
By law, all children of compulsory school age (5 to 16) must receive a suitable full-time education. Once your child is registered at school, you are legally responsible for making sure that they attend regularly.
If your child fails to do so, parents/carers are at risk of getting a penalty notice or being prosecuted. In addition we also ask that parents/carers consider the negative impact of regular absence upon the following:
your child's learning

friendships

your child's self-esteem and confidence.
Mapplewell Primary monitors the attendance of every child in the school and, in partnership with the Education Welfare Officer (EWO), works to support children and their families who are at risk of regular absence from school without valid reason.
Our school's attendance target for 2019 2020 is 97%.
Together we can achieve it!!
PUNCTUALITY AND LATENESS
It is important that classes make a prompt and effective start at 8:55 am. Lateness of pupils is monitored, and a letter will be sent out if they are persistently late as this causes disruption to that individual's learning and to that of the other children in the class. It is of extreme importance therefore that all pupils arrive at school on time. Doors open at 8:45 am and we expect pupils to be sat in class ready for registration at 8:55 am. Any pupil arriving after this time who come through the school reception area will have to be signed in by their parent/carer giving a reason for the lateness.
Reporting Your Child is Absent
If your child is ill it is important to let the school know by 9:15 am why your child is absent and the reason or the illness. If a valid reason for the illness is not given that the absence will be recorded as unauthorised.
Family holidays should be taken during the school holiday dates. The Headteacher cannot authorise holidays taken during term time. The chart below highlights the importance of good attendance and the impact it can have on pupil learning.
Punctuality is equally important. Please see the chart below: